Free delivery on all orders over £30
Free delivery on all orders over £30
Free delivery on all orders over £30
Free delivery on all orders over £30
Free delivery on all orders over £30
Free delivery on all orders over £30
Free delivery on all orders over £30
Free delivery on all orders over £30
Free delivery on all orders over £30
Free delivery on all orders over £30
Free delivery on all orders over £30
Free delivery on all orders over £30
Free delivery on all orders over £30
Free delivery on all orders over £30
Free delivery on all orders over £30
Free delivery on all orders over £30
Free delivery on all orders over £30
Free delivery on all orders over £30
Free delivery on all orders over £30
Free delivery on all orders over £30
Period symptoms: when to see a doctor
Period symptoms: when to see a doctor
Your menstrual cycle is your sixth vital sign and can indicate a wide variety of underlying health concerns. Understanding what is considered normal and when to seek medical advice is crucial. In this article, we're shedding light on both red flag symptoms that warrant a visit to the doctor and common experiences that are within the realm of normal and can be managed using a range of products we have in store.
Symptoms that Should Prompt a Visit to the Doctor:
a) Severe and Debilitating Pain:
While experiencing cramps during menstruation is common, severe pain that leaves you doubled over or disrupts your daily life is not. If you find yourself enduring excruciating pain that isn't relieved by over-the-counter painkillers or significantly impacts your ability to function, it's time to schedule an appointment with your healthcare provider. This could be a sign of an underlying condition such as endometriosis or fibroids that requires medical attention [1].
b) Heavy or Prolonged Bleeding:
Everyone's flow is different, but if you notice a sudden change in your menstrual pattern, such as excessively heavy bleeding or periods that last longer than usual, it's worth discussing with your healthcare provider. This could indicate issues like hormonal imbalances, uterine polyps, or other concerns that require evaluation and appropriate management[2].
c) Unusual or Foul Odors:
While a mild, slightly metallic smell is normal during menstruation, any unusual or foul odors could indicate an infection. If you notice a strong fishy smell or an odor that seems out of the ordinary, it's best to consult your doctor. Infections like bacterial vaginosis or sexually transmitted infections (STIs) might be at play and require appropriate medical treatment [3].
d) Your Period Going AWOL and You Not Knowing Why:
For most people, having a regular menstrual cycle is the norm. However, if your period suddenly goes missing without any apparent reason, it's time to seek medical advice. Several factors can contribute to an irregular cycle, such as stress, hormonal imbalances, excessive exercise, or underlying medical conditions like polycystic ovary syndrome (PCOS). Your doctor can help investigate the root cause and provide guidance on how to regulate your cycle and address any potential concerns [4].
Understanding period clotting
a) Large Clots:
Passing occasional small blood clots, usually no larger than a quarter, is considered normal. However, if you consistently pass large blood clots that are larger than a quarter or experience an increase in clot size, it's advisable to consult your healthcare provider. This could be a sign of hormonal imbalances, uterine fibroids, or other conditions that may require further evaluation.
b) Excessive Clotting or Clotting with Severe Pain:
If you experience heavy bleeding accompanied by severe pain and the passage of large blood clots, it's essential to seek medical attention promptly. This combination of symptoms may indicate a potential complication, such as an ectopic pregnancy or a miscarriage. It's crucial to receive prompt medical evaluation and care in such cases.
c) Persistent Changes in Clotting Patterns:
If you notice significant changes in your clotting patterns, such as suddenly passing larger or more frequent blood clots than usual, and it persists for several menstrual cycles, it's recommended to reach out to your healthcare provider. Persistent changes in clotting patterns may be a sign of an underlying condition that requires medical assessment.
Remember, it's always best to trust your instincts and reach out to your healthcare provider if you have concerns about your menstrual health. They can provide appropriate guidance, evaluate your symptoms, and determine if any further investigations or treatments are necessary.
Common menstrual symptoms: what's normal?
a) Mild to Moderate Cramps:
Cramps are a natural part of menstruation for many individuals. Feeling a dull ache or mild to moderate cramping in the lower abdomen or back is generally considered normal. However, if the pain becomes severe or significantly impacts your ability to function, it's time to seek medical advice [5].
b) Breast Tenderness:
Many people experience breast tenderness or swelling before or during their periods. This hormonal fluctuation is typically nothing to worry about and can be managed with lifestyle adjustments like wearing a supportive bra or avoiding caffeine and salt, which can exacerbate symptoms [6].
c) Mood Swings and Irritability:
Fluctuations in hormones can impact our emotions, leading to mood swings, irritability, or even tearfulness. While it's entirely normal to feel a little more sensitive during your period, if these mood swings become severe and start affecting your relationships or daily life, it's worth discussing with your healthcare provider [7].
The bottom line
Understanding when to seek medical advice regarding your menstrual cycle or hormone symptoms is crucial for your overall health. While small clots are generally normal, passing large clots, experiencing excessive clotting with severe pain, or persistent changes in clotting patterns may indicate an underlying issue. Debilitating period pain, your period disappearing altogether and any big changes to your cycle is something you should keep an eye on and explore further with a medical professional. Don't hesitate to reach out to your healthcare provider for a thorough evaluation and personalized care.
Disclaimer: The information provided in this blog post is for educational purposes only and should not be considered a substitute for professional medical advice. Always consult with your healthcare provider regarding any concerns or questions you may have about your menstrual health or any other medical condition.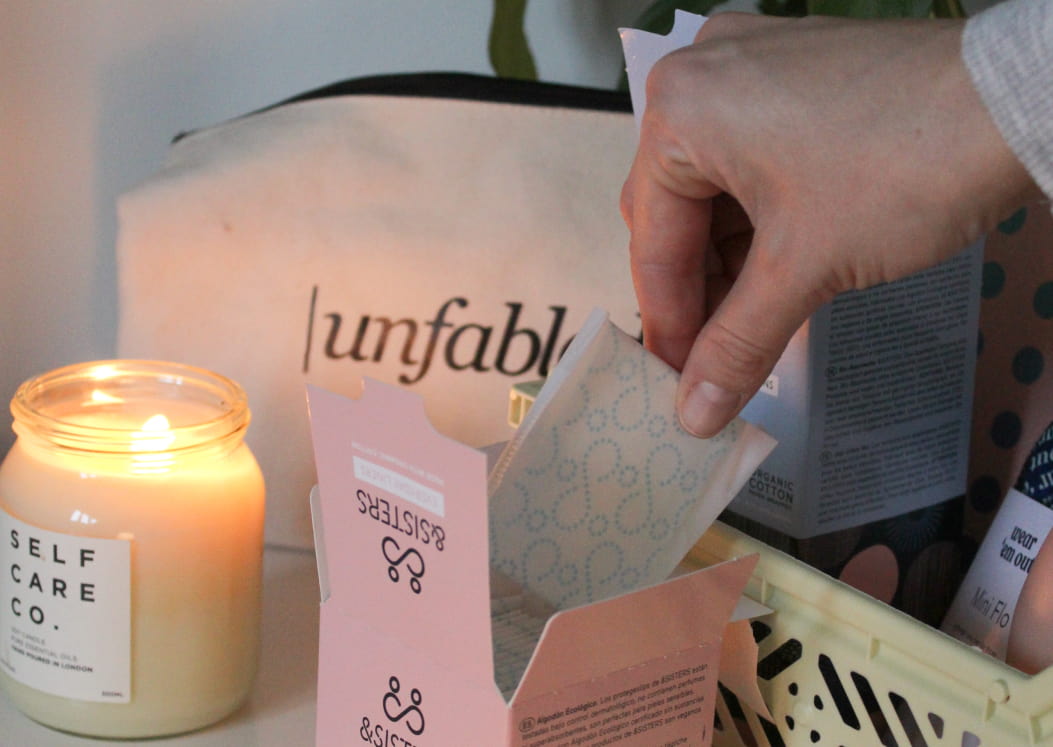 Discover our
symptom soothers
References
Mayo Clinic. (2021). Menstrual cramps: Symptoms & causes. Retrieved from https://www.mayoclinic.org/diseases-conditions/menstrual-cramps/symptoms-causes/syc-20374938
American College of Obstetricians and Gynecologists. (2018). Abnormal uterine bleeding. Retrieved from https://www.acog.org/womens-health/faqs/abnormal-uterine-bleeding
American College of Obstetricians and Gynecologists. (2018). Bacterial vaginosis. Retrieved from https://www.acog.org/womens-health/faqs/bacterial-vaginosis
Office on Women's Health. (2019). Polycystic ovary syndrome (PCOS) fact sheet. Retrieved from https://www.womenshealth.gov/a-z-topics/polycystic-ovary-syndrome
American College of Obstetricians and Gynecologists. (2020). Dysmenorrhea: Painful periods. Retrieved from https://www.acog.org/womens-health/faqs/dysmenorrhea-painful-periods
Cleveland Clinic. (2021). Breast tenderness and hormones. Retrieved from https://my.clevelandclinic.org/health/symptoms/16332-breast-tenderness-and-hormones
National Health Service. (2018). Premenstrual syndrome (PMS). Retrieved from https://www.nhs.uk/conditions/premenstrual-syndrome-pms/