Free delivery on all orders over £30
Free delivery on all orders over £30
Free delivery on all orders over £30
Free delivery on all orders over £30
Free delivery on all orders over £30
Free delivery on all orders over £30
Free delivery on all orders over £30
Free delivery on all orders over £30
Free delivery on all orders over £30
Free delivery on all orders over £30
Free delivery on all orders over £30
Free delivery on all orders over £30
Free delivery on all orders over £30
Free delivery on all orders over £30
Free delivery on all orders over £30
Free delivery on all orders over £30
Free delivery on all orders over £30
Free delivery on all orders over £30
Free delivery on all orders over £30
Free delivery on all orders over £30
Your first period after giving birth: what to expect postpartum
Your first period after giving birth: what to expect postpartum
Embarking upon the journey post-childbirth, often termed the "fourth trimester", may feel akin to treading through uncharted territory (1). With your body on a path to healing, hormones dancing to their own rhythm, and a new life to nurture, it's natural to have questions regarding the return of your period. Fear not; we're here to help!
What can I expect regarding postpartum bleeding?
In the weeks following the arrival of your little one, you may notice a completely normal discharge known as lochia (2). Lochia is the medical term for the postpartum discharge that contains blood, mucus, and uterine tissue. And although this may resemble your period, it is not the same as menstruation. Generally, it will start off bright red, gradually lightening to a softer pink before ceasing over approximately six weeks.
During this time, it's advisable to use pads or period underwear instead of tampons or menstrual cups while your body is still healing and to reduce the risk of infections.
When will my period resume after childbirth?
The resumption of your menstrual cycle post-baby is inevitable and predominantly influenced by your breastfeeding practices. For those exclusively breastfeeding, the return of periods may be delayed due to the hormone prolactin (essential for milk production) suppressing ovulation (3). It's not unusual for your period to take a break for six months or even longer under these circumstances.
However, for those not breastfeeding or combining bottle feeding with breastfeeding, periods may return as early as four to eight weeks post-childbirth (4). Bear in mind, every body is wonderfully unique, hence timelines and experiences may vary.
What symptoms accompany your first postpartum period?
With the return of your first period after baby's arrival, it's completely normal to notice a few changes.
Many new mums observe alterations in the flow, duration, and cycle length of their periods, which is usually due to the natural reconstruction of the uterine lining post-delivery. So, experiencing irregular periods, cramps that feel different in intensity, heavier flows, or even the presence of blood clots, is quite common.
However, if you do find yourself facing unusually heavy blood loss or large clots, it's a good idea to have a chat with your midwife or GP.
Can I fall pregnant soon after childbirth?
It may surprise you to learn that conception is possible as early as three weeks following childbirth, even if your periods haven't yet resumed (5). Yikes right! If you aren't planning another addition to the family imminently, considering contraception could be wise. Speak with your healthcare provider to explore contraceptive options that align with your current lifestyle and breastfeeding choices.
Can I get pregnant before my first period?
Indeed, it's possible! Since ovulation occurs before the arrival of your first postpartum period, pregnancy can indeed be on the cards during this time.
How should you care for yourself postpartum?
Postpartum care is crucial, though it often doesn't get the spotlight it deserves compared to prenatal care (6). While the postpartum phase is undeniably challenging, it also unfolds as a journey filled with unique and beautiful moments. Prioritising your health and well-being during this period is not just crucial for your own recovery; it's also pivotal for the healthy development of your newborn.
Ensuring you receive continuous support, engaging in self-care routines, and keeping a vigilant eye on your mental health isn't a luxury or an act of selfishness — it's a necessity. By taking the time to 'fill your own cup', you equip yourself with the energy and emotional resilience required to provide wholehearted and attentive care to your precious new arrival.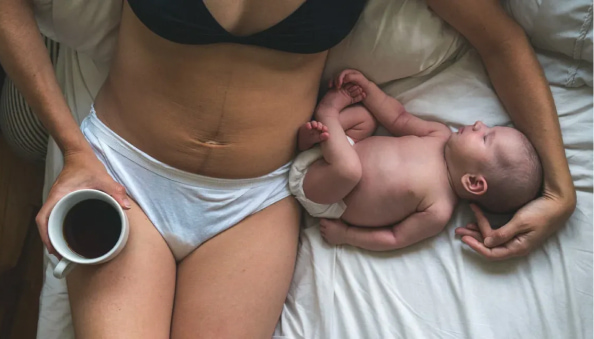 Explore
postpartum support
References
Hamilton N, Stevens N, Lillis T, Adams N. The fourth trimester: toward improved postpartum health and healthcare of mothers and their families in the United States. Journal of Behavioral Medicine. 2018;41(5):571-6.
Sherman D, Lurie S, Frenkel E, Kurzweil Y, Bukovsky I, Arieli S. Characteristics of normal lochia. Am J Perinatol. 1999;16(8):399-402.
Chao S. The effect of lactation on ovulation and fertility. Clin Perinatol. 1987;14(1):39-50.
Sharman A. Menstruation after childbirth. J Obstet Gynaecol Br Emp. 1951;58:440-5.
Howie PW, McNeilly AS, Houston MJ, Cook A, Boyle H. Fertility after childbirth: post-partum ovulation and menstruation in bottle and breast feeding mothers. Clin Endocrinol (Oxf). 1982;17(4):323-32.
Tully KP, Stuebe AM, Verbiest SB. The fourth trimester: a critical transition period with unmet maternal health needs. Am J Obstet Gynecol. 2017;217(1):37-41.