Free delivery on all orders over £30
Free delivery on all orders over £30
Free delivery on all orders over £30
Free delivery on all orders over £30
Free delivery on all orders over £30
Free delivery on all orders over £30
Free delivery on all orders over £30
Free delivery on all orders over £30
Free delivery on all orders over £30
Free delivery on all orders over £30
Free delivery on all orders over £30
Free delivery on all orders over £30
Free delivery on all orders over £30
Free delivery on all orders over £30
Free delivery on all orders over £30
Free delivery on all orders over £30
Free delivery on all orders over £30
Free delivery on all orders over £30
Free delivery on all orders over £30
Free delivery on all orders over £30
5 tips for reducing period cramps that actually work
5 tips for reducing period cramps that actually work
1. Drink more water during your period.
Okay, we know this one sounds like an old wive's tale, but we're serious. Drinking enough water during your period can help to prevent the body from getting dehydrated and reduce menstrual pain. Water intake can help to regulate proper functioning of the body cells, whereas a lack of enough water can make your body susceptible to physical and mental stress and improper functioning.
It's advisable to drink enough water at all times to keep your body active. But how much water is enough?
The Institute of Medicine recommends 9 cups of fluid (a little more than 2 litres) total per day for women. The reduction in the amount of estrogen and progesterone in your body during your period can cause retention of water in the body (hello, period bloating!). Drinking enough water can help to flush your system and keep you hydrated and comfortable always.
2. Take magnesium.
All hail nature's relaxant, magnesium! Magnesium is a hero supplement in women's health. A recent literature review revealed that magnesium can be used to ease premenstrual syndrome (PMS) and reduce menstrual cramps.
Studies show that, taken daily, magnesium may prevent dysmenorrhea (menstrual cramps) in some people. It works by relaxing the smooth muscle of the uterus and by reducing the prostaglandins that cause period pain. But, as with most supplements, consistency is key. You'll need to take magnesium daily for a month or two before you can really begin to reap the benefits.
3. Try a TENS machine.
Transcutaneous electrical nerve stimulation (TENS) is a method of pain relief involving the use of a mild electrical current. Recently, a range of different TENS machines specifically for period pain have been developed and we're here to tell you that, shockingly enough, they really do work.
It's not just a passing trend. TENS may be able to help reduce pain and muscle spasms caused by a wide range of conditions including:
arthritis
period pain
pelvic pain caused by endometriosis
knee pain
sports injuries
TENS is also sometimes used as a method of pain relief during labour.
It's important to remember that using a TENS machine for your period pain will give relief, but it won't cure your pain. So, if you're looking for an alternative to popping paracetamol, we'd highly recommend VUSH's Aura TENS Period Pain Relief Device, but if your pain is disrupting your daily activities, it's important you speak to a healthcare professional who will be able to look into your pain for you and offer more insights.
4. Use CBD balms and topical oils
If you're experiencing mild period cramps, a great way to relieve them is by applying CBD balms or a topical CBD oil to the area where you're experiencing the most pain.
Members of our community swear by Script's Topical Oil for Menstruation, which is a convenient size for popping in your bag and taking out and about for period pain relief on the go. A soothing blend of St. John's Wort, limonene, black cumin seed, almond and jojoba essential oils, this topical oil actually only contains a very small amount of CBD, leaning into formulations popular in traditional Chinese medicine to provide relief.
5. Try heat therapy or find cooling relief
Especially as autumn and winter draw in, heat therapy can be a great way to reduce period cramps. A classic home remedy for period pain, there's a science behind the use of hot water bottles for period cramps. Applying heat to your stomach doesn't just offer warmth and comfort, it relaxes uterine contractions, reducing pain.
If you're on the lookout for a new hot water bottle, we're massive fans of the fluxies wearable Body Hot Water Bottle. This hot water bottle can be wrapped around your waist to soothe period cramps and as an added bonus even has pockets for added comfort.
On the other hand, if you're not a hot water bottle fan, or don't find them convenient, we can't recommend BeYou's Monthly Pain Patches enough. Created with a blend of eucalyptus and menthol, BeYou's Monthly Patches are a cult favourite with our community and it's no surprise as to why – they really work. These patches create a 'cooling tingle' on application and slowly deliver a cramp-numbing sensation to the skin over 12 hours. Made from steam-distilled eucalyptus and peppermint-derived menthol oils, the biodegradable patches use an adhesive derived from tree sap and can be applied to your tummy, back, legs or breasts for long-lasting pain relief.
If you're interested in exploring how your company or employer could work with Unfabled to improve employee wellbeing, drop us an email at employers@unfabled.co and we can discuss further. We're committed to promoting the health and wellbeing of employees, both at work and at home, so our inbox is always open.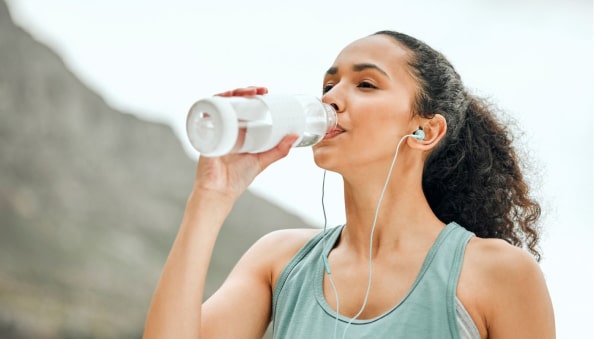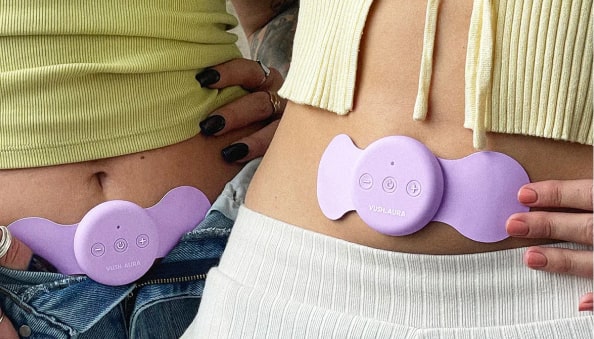 Explore
period cramp relief